Grammarly Review, How It Helps Me Blog In English
So, for those of us who English is not our native Language, blogging in English has its own challenges. And actually it's not just us, even the native English speakers need a little help when it comes to writing. So how can you make sure that your grammar and punctuation is correct especially when you are writing long articles? In this Grammarly review, I am going to show you exactly why it's important to have Grammarly installed on your devices right now.
To be honest, when it comes to accuracy or my use of proper grammar and spelling, my number one go-to is Grammarly. I had installed Grammarly on my devices, and had been using it for a long time for texting and emailing.
But shortly after I started blogging, I found out that Grammarly is essential. And I have to admit it has made things so much easier for me. I think Grammarly is a must-have for bloggers and not only bloggers but for anyone who wants to use proper grammar while emailing, texting or even using social media.
When I first started learning about blogging and launched my first blog, I was very nervous because English is actually my third language and it's a learned language. This means I was scared of writing in English and my blog posts sounding like A Google translate work 🙂 I wanted to write naturally with personality and with my own distinct style.
And since I mentioned Google translate, let me tell you a funny story, I translated one of my blog posts from English to Kiswahili and then translated it back to English. it was really interesting to say the list. But to be fair I was using a free plugin to translate within my website. I also like playing with English Christmas songs by translating them into different languages and back to English ( I know, I'm weird) OK, enough of that let's go back to our article.
I wanted a conversational style of writing, but I also wanted to make sense and also to have correct spelling and correct grammar. And that's where Grammarly comes in handy, it has helped me blog in English effortlessly, and has improved my writing confidence and skills.
When I start a blog post, I don't have to worry about grammar and spelling, all I have to worry about is researching so I can deliver my message to my readers.
And now we need to find out what exactly is Grammarly all about. In this review, we are going to compare the paid version to the free version and see if it's necessary for you to get the paid version of Grammarly.
Let's Get Started with our Grammarly Review
Name- Grammarly
Website- www.grammarly.com
Category- Text editing Software
Year Launched- 2009
Developers- Alex Shevchenko, Max Lytvyn, and Dmytro Lider
Owners- Grammarly, Inc
Country- United States.
But What Is Grammarly?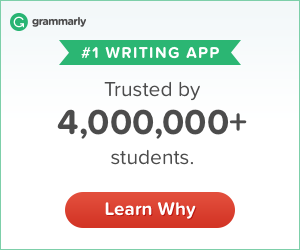 If you haven't heard of Grammarly before, I will explain what Grammarly is, it's an app or extension that detects mistakes when you are writing and it does so in real-time which means it will save you a lot of time because you can correct the mistakes as you go. Grammarly is available as a browser extension for Firefox, Safari, and Chrome, you can also download it as an app from apple store and also you can get it for Android.
Most of the reviews of Grammarly listed the unavailability of Grammarly in Google Docs as downside and this problem always made it to the list of cons. But as of October 2018, this problem has been rectified and Grammarly is working just fine in Google Docs. As you can see below, I tried it in Google Docs and it's working.
What Are The Features Of the Grammarly Free Version?
Most people use the free version of Grammarly especially those who have no problem with the English language and just need a little help with grammar and spell-check. That is exactly what the free version of Grammarly offer, a lot of people have complained that the free version is too limited but I guess it has to be so if you need more, you have to pay.
I have to admit for a free service, they do give good service and you can even customize Grammarly even if you are on the free version. For example, you can add a word to the dictionary so it's not flagged as an error when you use it, like let's say you have a brand or a name that you use a lot in your content, you can add it to you Grammarly dictionary.
Grammarly Premium Version Features
The premium version offers much more. 400 types of checks. It will ensure that you have a professional writing style, by giving you checks for Grammatical errors as well as spell-check. conciseness, readability, vocabulary enhancement, and citation suggestions. it will also provide you with generic specific writing style checks Plagiarism detector that checks more than 16 billion web pages.
There are other features too, like the ability to check your writing across the web, you are also able to access your personal editor via Grammarly.com below is a screenshot of the full list.
How Much Does Grammarly Premium Cost?
Well if you need the premium version, the monthly fee is $29.95 but if you take the annual plan, it will cost you $139.95 which translates to $11.66 you can also opt for the Quarterly plan which will cost you $59.95 which comes to $19.98 per month.
Should you go for the premium version? it's really up to you and what you need. If you need more features than what is offered in the free version, then yes you should upgrade to the premium version. If you are writing a book or do a lot of business emails that need to be absolutely professionally done, then yes you do need more than what the free version of Grammarly offers.
Who Is Grammarly For?
Grammarly is very helpful to anyone who writes or texts on a daily basis. (which is almost everybody) it's helpful to students, business owners, teachers, and authors, not to mention bloggers and entrepreneurs.
To be honest, everyone needs Grammarly even if it's just the free version. Because whether you are creating a Facebook, Twitter or Instagram post, don't you want your grammar and spelling to be on point? The good thing about Grammarly, they don't just point out your errors and offer suggestions.
They go a step further and explain why that particular phrase doesn't work in the sentence which means over time you will get better at writing. Because you are actually learning, and actually because Grammarly lets you choose between personal use or academic and business use, your writing style will keep getting better the more you use Grammarly.
User Friendly
Grammarly is very easy to use. Once you install the extension on your chrome, it will be able to detect and help you correct any errors you might make while writing. This means you don't have to copy and paste your content in order for it to be checked.
I think the fact that you don't have to move your content, is the best and the easiest way. You might have noticed the lack of con list I honestly don't have anything bad to say about this tool. I have used it for over 5 years now and it has helped me a lot. So some people have complained about small things like Grammarly trying to change the structure and the phrases of your writing but if you don't like the suggestions, there is an ignore button.
Also if they suggest you use a comma or a full stop and you don't want to, again, you can always use the ignore button. Do I think the free version can use some improvement? sure. But then again as my grandfather used to say, when you get a goat for free, you don't check if its got all it's teeth.
And as far as the advertising is concerned, because this is another problem people are complaining about when they get the free version. well, you can always unsubscribe from their emails. The thing is, of course, they will encourage you to upgrade to premium, that's how they make money. But if you don't want to upgrade, then unsubscribe from their emails, problem solved. So honestly that is not a big issue.
Conclusion
I think Grammarly is a very helpful tool. And I think as a blogger Grammarly makes blogging easier and enjoyable. As we know for someone who is not a native English speaker, writing lots of content in English can prove both stressful and draining.
But if you are using a tool like Grammarly, you can just relax and let those words just flow from your fingertips onto your keyboard/keypad.
OK, enough of me, let's hear from you now, have you used Grammarly and if so has it made your writing better? Do you have complaints about this tool? let your voice be heard, leave your comments below.
Thank you so much for your time and comments.
Rose
You are here » Home » Reviews » Grammarly Review, How It Helps Me Blog In English
bloggingtips
bloggingtools
Grammarlyreview