Must Have Tools For New WordPress Sites
Today we are going to talk about must have tools for new WordPress sites. When you build your website, you probably are not sure which plugins you must install to your new website. So I want to give you a list of tools that you must have in order for your website to operate properly.
Must have tools for new WordPress sites, these are tools that will help you with analytics, they will help you rank well in search engines like Google, Bing, and Yahoo. One Tool that you must have on your website, is one that helps you analyze different things on your site.
So you can make decisions about your business based on data and not guesswork. And for that reason, our number one tool that you must have on your WordPress site is a plugin called Monsterinsights.
Must Have Tools For New WordPress Sites Number One Is The Monsterinsights Plugin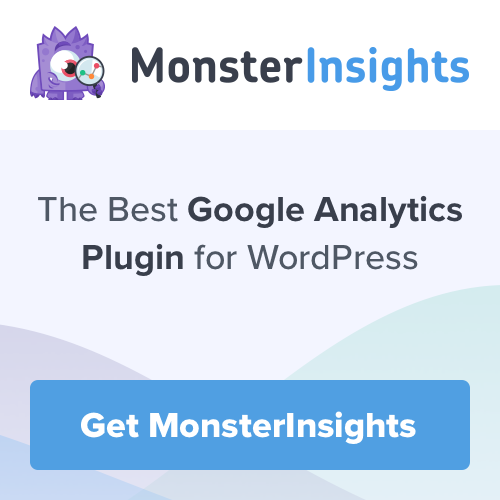 This is one plugin that allows you to connect Google Analytics without coding. So you can analyze the performance of different pages on your website including your forms and your digital downloads, and file tracking. You can also do your e-commence tracking, for those who are running e-commerce websites.
One of the things people are scared of when it comes to websites is coding, but these days you can do almost anything on your WordPress website without having any coding knowledge, thanks to plugins like Monsterinsights. With this plugin, you can get a comprehensive and easy-to-understand analytic report that will help you pinpoint what is working and what is not when it comes to your online business.
Easy Access To Your Analytics Right At The Dashboard Of Your WordPress Site
If you are obsessive like I am about Analytics, then you know that you might waste a lot of time going over your analytics in your google analytics account. But with Monsterinsights, you don't have to log in to your Google Analytics account, you can just see your performance right on the dashboard of your WordPress Site, you can take a glance as you are working on your articles.
This saves you a lot of time, and you are able to adjust whatever needs to be adjusted based on your analytics. But why are analytic reports so important for your business? Well, as I mentioned earlier, you will not know what is working and what is not working until you check the performance of your pages.
For example, Mosterinsights gives you analytics for your affiliate links, which is very important because you can see which pages are generating the most sales so you can follow that pattern and take your business to the highest level. You can also download your analytic reports simply by using the export button, which is very important for record-keeping.
Building an online business has to be done correctly. you need to know your power of attracting visitors and turning those visitors into buyers, or subscribers. You need to understand where you fall short so you can improve, and that is the area where the Monsterinsights plugin helps.
Running Your Online Business In The EU Monsterinsighs, Helps Your Be Compliant
Monsterinsights helps you add all the necessary add-ons to keep you compliant with EU requirements, like cookie consent forms, and privacy requirements. Monsterinsights comes in four versions, there is the lite version which is free, then there is the Plus, Pro and Agency.
I think you should try This plugin and see how easy it will make your job when it comes to Google analytics. You just need to create your google analytics account and then let the Mosnterinsights do the magic, you will not have to paste any code to your website, which what makes things complicated for many people.
Codes are very sensitive, And scary if you don't know what you are doing. One wrong move and your website is broken.
Must Have Tools For New WordPress Sites WPForms Plugin
You must have a plugin that enables you to build forms for your website. And WPForms is beginner-friendly, it enables you to build a contact form, email subscription forms, or any other forms. When I created my first website, I found it so easy to use, with just a few clicks, I was able to build my contact form which is a must have for your website.
Search engines especially Google does look to see if you have these forms especially the contact form, that is one of the things that give your website credibility, the fact that your readers can contact you. WPForms is responsive, and light which makes it mobile-friendly, and as we know, your website has to be super mobile-friendly these days for it to rank well in search engines.
Apart from contact and email subscription forms, the WPForms can be used to create donation forms, payment forms, multi-page forms as well as survey/poll forms. Powerful order forms that can be integrated into PayPal and other payment methods making it easy to collect donations or payments. So it really doesn't matter what your website is about, you need this plugin. With over 150 templates to choose from, you are going to find a template that matches your style and your business. For more information on this plugin, Click Here
OptinMonster Plugin
This is a plugin that helps you turn your readers into buyers or subscribers by showing them a pop-up that will prompt them to subscribe to your email list newsletter or get them to buy your online course, e-book, whatever it is. One problem that I have noticed with many optin plugins, is that they are not 100% responsive which means they look terrible on mobile devices.
And to be honest, there are many times that I have been forced to hit the back button because of a pop-up that does not work with my mobile device which leaves me no choice but to abandon that website. That is something that you don't want your visitors to do because it hurts your website.
User experience is everything when it comes to websites. So With OptinMoster, you will get a lightweight plugin that is fully responsive which means it will show perfectly on mobile devices, and also it will not slow down your website. The best feature in my opinion when it comes to OptinMoster is the exit popup, where you can set the popup to show as the reader is about to leave your website.
This is super effective in turning your visitor into an email list subscriber, it also lowers the chances of cart abandonment when it comes to E-commerce websites because you can customize your message and the popup is triggered just as they are about to leave.
Conclusion
There are tools that you simply must have when you are setting up your WordPress Site, and in this article, I have shared 3 tools that you really need to have. Of course, there are other plugins and tools that you need for your new WordPress site. And I have many other articles that cover more tools, so please feel free to look around my site.
I really would like to read your comments, are you starting a brand new WordPress Site? I would like to help you so please leave your questions and comments below and I would be more than happy to connect with you and help you out.
Thank you for your time.
Rose.