Can You Make $100 A Day On Fiverr?
For most online business owners, Fiverr is the place to find people who can accomplish different tasks like creating content, logos, graphic designs for websites, and even WordPress programming. The question is, can you make $100 a day on Fivver? Fivver has given many business owners and professionals a platform where they can connect and work together. Which means there are chances for Freelancers to make money.
What Is Fiverr And How Does It Work?
Fivver is a website that is dedicated to connecting Business owners with freelancers from all over the world. it works by being the middle man between the two, the buyer pays Fivver for services ordered, and then when the task is completed then Fiverr releases the payment to the seller. But Keep in mind that Fivver will keep 20% of your earnings as their commission.
Fivver was launched in 2010 and although it's headquarters are based in Tel Aviv, they have offices in New York, London, Berlin, and San Francisco.
If you have a skill, by creating a profile on Fivver you have the potential of making money online because there are people who are looking for all kinds of different things on Fivver. There are people looking for someone who can write a resume and cover letter, speeches, there are others who are looking for voice-overs. Product photography, the list is endless.
Online Entrepreneurs Need Fivver, And Creators Need Fiverr Too
As a person who runs several websites, sites like Fivver and upwork are very helpful to me, because I do need different things done for me, because I am not that good at graphics, so I do need someone who is good. And now to answer whether you can make $100 a day on Fivver, absolutely you can. And you can even make more.
There are people on Fivver who are charging over $100 per gig, of course, I would not suggest that you get on there and start charging so high. The people who are charging so much money are the kinds of people who have been there for a long time and have also made lots of sales earning them the title of Pro.
But as a beginner on Fivver, you need to start low, and then you can go high as you gain authority and make a good number of sales. You need to make your first ten sales very quickly so you can get on level one and then work harder to make your next ten sales so you can get on level two.
Most Buyers Tend To Go For Lever 2 Sellers On Fiverr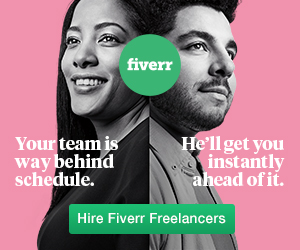 Most buyers tend to go for level two sellers, so that is where you need to be as quickly as possible. Although you will find buyers who prefer new sellers because they know the new sellers will charge less and will put lots of effort into the job because they are looking for good reviews so they can rank.
And you don't even need investment, especially if you are offering writing or proofreading and editing. you just need to have knowledge of content creation. But for logo making, you might need to invest in a site like placeit.com or even Wix, so you can get professional templates.
But if you are offering services like Pinterest management, canva.om is free and you can do a lot of designs in there. The truth is there are so many opportunities to make money on Fivver. So whether it's audiobook production, Or content creation, or other things, to be honest, there are all kinds of services advertised on Fivver. Graphic designs, voice-over, blog posts, Video animation you name it it's there.
You Will Need To Learn How To Rank Your Gig On Fiverr
The problem you will face as a new seller on Fiverr, is how to rank so buyers can find you, because the competition is so high on Fivver, you need to make your gig enticing and eye-catching, so when you are creating your offer spend more time on the title, description, and tags of your gig.
Rember that the buyers are typing keywords on the search bar, so you need to use keywords when describing your gig and you need to use keywords on tags as well. This is when you need some knowledge of SEO because just like other search engines like Google, the Fiverr search engine will drive customers to your gig depending on your keywords.
I found a video on YouTube that will help you a lot on this topic so please check it out.
And don't forget, to go to buyers requests and present your offer, just like any business, you can't just post your gig on Fivver and sit back waiting for buyers to come flooding your mailbox, you need to put in some work because as a new seller, no one knows you on Fivver so it's your responsibility to make yourself known.
You Need To Be Online As Much As Possible
If you intend to make Fivver your way of earning income online, then I suggest you make yourself available as much as possible especially as you are starting out. When buyers are looking for services, they tend to go with the sellers that are online, so if you are online, you stand a chance of landing sale than someone who is an old-timer on Fiverr but they are offline.
Don't forget to share your services on social media to let people know of you, if you are a graphic designer, make some samples and share them to get exposure.
Of course, this goes without saying but I will mention it, make sure to deliver orders on time if not earlier and have a professional attitude. Always show professionalism when dealing with your customers. Always answer questions and don't be rude to your customers.
If you give good services, your customers will come back and they will probably recommend you to other people, for example, we had a member at a forum that I am involved in and he recommended a person on Fivver who has been doing blog posts for him and had been doing a great job. From that recommendation, the guy on Fivver has gotten many customers wanting him to write content for them.
So just like any other business, it really boils down to good customer service and professionalism.
Conclusion
Fivver is a great way to earn income online, there are people making up to 6 figures just with Fivver, One thing is for sure, you will have to work hard because, in order for you to make good money on Fivver, you need to take many orders and deliver on time if not earlier.
Of course like any other business, it will take time for you to rank and start getting those big orders, plus you cannot charge so much money in the beginning but as time goes by and you complete many orders successfully, you will gain authority and start making good money.

Now, if you would rather build your own online business and have full control of your business, please check out my number one recommendation for learning how to make big money online.
You are here » Home » Make Money Online » Can You Make $100 A Day On Fiverr?